Home | About Us | Contact Us | News & Events | Site Map
Follow us :




About Crescent Medical Centre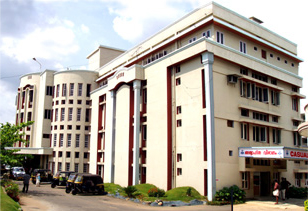 Crescent Hospital was inaugurated on 1st of May 1997 under the auspices of Crescent Medical Centre Ltd. The birth of this Hospital marked the beginning of a new era of professional health care in the history of Alathur. The population of the thaluk, totaling around 4 Lakhs, had the opportunity, for the first time, to seek expert medical opinion and efficient treatment for their ailments in their own locality.
A hospital was such a need in the locality that 90% of people who suffered from even minor ailments had to travel at least 50 Kms to procure primary health care. The National High Way on an entire length of 110 Kms between Coimbatore and Thrissur, didn't have a single hospital where emergency trauma care could be availed. The region had witnessed through years a number of incidents of road traffic accident victims dying on their way to hospital just because they couldn't get emergency medical care at the right time.
It was under these dismal circumstances that Crescent Medical Centre Ltd. came forward and put forth the trend-setting path in health care by establishing a Centre capable of providing excellent and immediate modern medical treatment. The promoters of this noble venture include a group of motivated people for whom this land is their hometown and the inhabitants are their friends and relatives. So, to alleviate the tragic grievances of the people around them was deemed as their God ordained duty towards the community. Rather than monetary benefit, the prime motive behind this humane effort was to lend a helping hand to the society to alleviate their suffering and hardships.
It is with this motive that CMC set forth its motto as
'Service to Humanity is Service to the Almighty'
Crescent Hospital was inaugurated with an in-patient capacity of 50 beds and 11 doctors. The overwhelming response from the common public compelled us to increase the bed strength to 100 within 3 months and to 150 within a year. Today, crescent hospital has improvised a lot, both in quantity and quality, with its arduous service and sheer dedication. Crescent Medical Centre now is a multipurpose venture, comprising of the hospital itself with 300 beds, 25 doctors, and 300 paramedics; and the Crescent School of Nursing and Crescent College of Nursing. The project, which was initially formulated with a total capital investment of 20 million has now prospered and elaborated in due course of time. Today, Crescent Medical Centre is a joint venture of about 500 noble shareholders in an abroad India, with an estimated capital of 50 million Indian Rupees. The growth of crescent hospital was steady along the entire span of ten years since its inception. In 1999, Crescent Hospital started its cardiac department and orthopedic operation theatre with state of the art image intensifier, the C-Arm machine. Crescent School of nursing was inaugurated on January 2001 by the then Health Minister Shri. V.C. Kabeer Master M.L.A. In 2004, a new block was inaugurated which relocated the Gynecology and Pediatrics departments and the Neonatal ICU. It also incorporates facilities to accommodate 150 in patients, which increased the bed strength of Crescent Hospital to 300. Along with that a new Pharmacy with ample space was also added to the facilities. In 2005 the College of Nursing was started with the sanctions from Kerala Nursing Council and Indian Nursing Council. In 2005 Crescent Hospital was added with the WiproGE spiral CT Scan machine, which is the first spiral CT scan in Palakkad district. In 2006 we have still supplemented our infrastructure with the Modern Colour Doppler machine for Cardiac Investigations. In 2008 a full fledged Psychiatric & Geriatric care department was started with an inpatient capacity of 50 beds. Treatment and rehabilitation of acute and chronic psychiatric patients is available in this department. In 2009, a Renal Care and Dialysis Unit were inaugurated. Crescent medical centre has procured 5 acres of scenic land on the banks of river gayathri, about a kilometer from the existing hospital, for the purpose of constructing separate buildings for its Nursing institutions. The College of Nursing and the School of Nursing have started functioning in the new building erected for the purpose and also Hostel facilities for the entire nursing students is also provided in the premises. The projects also envisage putting up facilities like Staff Quarters, and other recreational amenities in the plot and develop the area into a full-fledged allied medical institution. In the Hospital, the ventures expected in the near future include a Blood Bank, Cardiac Intensive Care Unit, Pacemaker Implantation Unit, and Video graphic Laparoscopy.