Home | About Us | Contact Us | News & Events | Site Map
Follow us :




About Mission & Vision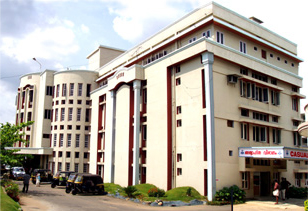 A hospital was a need in the locality that 90% of people who suffered from even minor ailments, had to travel at least 50 Kms to procure primary care. The National High Way on an entire length of 110 Kms between Coimbatore and Thrissur didn't have a single hospital where emergency trauma care could be availed. The region had witnessed through years a number of incidents of road traffic accident victims dying on their way to hospital just because they couldn't get emergency medical care at the right time.
It was under these dismal circumstances that Crescent Medical Centre Ltd., came forward and put forth the trend-setting path in health care by establishing a Centre capable of providing excellent and immediate modern medical treatment.
PROMOTERS & MOTTO
The promoters of this noble venture include a group of motivated people for whom this land is their hometown and the inhabitants are their friends and relatives. So, to alleviate the tragic grievances of the people around them was deemed as their God ordained duty towards the community. Rather than monetary benefit, the prime motive behind this humane effort was to lend a helping hand to the society to alleviate their suffering and hardships.
It is with this motive that CMC set forth its motto as
'SERVICE TO HUMANITY IS SERVICE TO THE ALMIGHTY'
MISSION AND VISION
The primary mission of Crescent Medical Centre is to provide immediate, efficient and benevolent medical care to the sick and trauma victims in the area and to promote health awareness and education.
Crescent Medical Centre envisages playing a pivotal role in uplifting the health standards of the common public in this area and pledges to work whole heartedly for the cause by efficient and timely planning and execution of health care and education.
QUALITY POLICY
Crescent Medical Centre is committed to provide excellent quality health care of accredited national standards at affordable cost to the public. This shall be achieved through dedicated and caring service of all staff of CMC. The management of CMC commits itself to support this policy with all necessary resources. Continual improvement in all phases of activity will be achieved by periodical review and repeated training process. Social Commitment
Crescent Hospital is primarily responsible and built up on the basis of sheer social commitment to the society. It not only has started the venture with social motive, but also makes it a reality through its continuous efforts and service schemes implemented in the populace. General Medical Camps, Free Clinics, Medical and health publications, Blood Donation Camps, Health Awareness programs, Exhibitions and Community based services etc are all aimed at improving the social and health status of the public.